YAPC would like to welcome Julie Otzelberger to the blog today. She will be interviewing with us and sharing some info about her book The Cat that Went to Homecoming. If this looks like something you would enjoy reading, please go get a copy!
YAPC: Tell us about your new release.
Julie: The Cat That Went To Homecoming is a story about a bullied teen who learns how to overcome her bullies without stooping to their level through the help of her cat, Hershey.  Most of us can relate to the unconditional affection our pets give us and the joy they bring to our lives.  Since they bring us such joy, why not share that feeling with others who may need a little companionship?   Ellen's volunteerism with Hershey connects her with people who need her, but also teach her valuable life lessons.
YAPC: Do you have a day job?
Julie: Yes I do, a starving artist must work to support herself!  I'm a Medical Assistant and I work for an Internal Medicine doctor in one of the biggest healthcare organizations in my state.  I'm also a registered animal handler with Pet Partners.  My cat, Bear, and I visit hospice patients in my spare time.
We also visit college students during finals to "de-stress" them.   Bear and I will be visiting a local college in mid May and let me tell you, the college girls love my cat!
YAPC: When did you decide to become a writer?
Julie: I've been a writer all of my life.  Let's put it this way, when most people doodle, they draw pictures.  When I doodle. I write words.  It wasn't until my daughter graduated from high school that I decided it was time for me to put my nose to the grindstone and write my first book.
YAPC: Who is your mentor?  Who do you look up to?
Julie: I grew up reading Judy Blume's books.  She wrote what were considered at the time to be very controversial novels.  Her books touched on such topics as racism and weight discrimination, bullying, divorce, and even masturbation and teen sex.  Her books were realistic and generated discussions among we young adults.  It is Judy Blume who I look up to the most as an author.  Some topics are difficult to talk to your parents about.  I think that having books to read with characters you can relate to and care for can help with some of the difficult things in life.
YAPC: State a random fact about yourself that would surprise your readers.
Julie: I never went to a homecoming dance.  In hindsight, that may be a part of why my book is titled The Cat That Went To Homecoming.
YAPC: Which scenes were the hardest to write? 
Julie: Spoiler alert!  The scene where Ellen meets Janet in the rehab facility for the first time was difficult for me to get through.  The death of Janet's cat, Lincoln, had me crying as I was writing.  I've been through a few very painful pet deaths in my life from the same form of cancer as Lincoln had, so to me, if felt so real and so raw.
YAPC: Why did you choose the genre you write in?
Julie: I've always been drawn to young adult tv series and movies.  I still watch reruns of Saved By The Bell and will sit through a marathon of Degrassi episodes!  I think that because I did not experience the kinds of good times the kids in these high school dramas do is what draws me in, I guess I live vicariously through these shows.  I write stories with characters I would have been, or wanted to be.
YAPC: How did you come up with the premise for your book?
Julie: Unfortunately, the basic story was already there for me to embellish.  My experiences during my work with my own cat just sparked a new direction for the story to go in.
YAPC: Do you have an all time favorite book?
Julie: Charlotte's Web.   It is a story about the compassion and commitment in friendship that not only changes the lives of the two friends involved, but changes the way others around them think and feel. My 3rd grade teacher was reading this book aloud to us in class and I was thoroughly engrossed in the story.  I could not wait for the next time she'd read!  I believe she read to us once a week, so I had a week in between readings to anticipate the next direction the story would take. This all changed when Charlotte died.  I cried and sobbed and was inconsolable.  Fellow students were laughing at me, and my teacher had to stop the reading and redirect me.  It was the first book of many that made me cry.  It broke my heart.  I never got to hear the end of the book from my teacher because my family moved, so I took the book out of the library at the new school and finished it myself.
YAPC: Where is your work available?
Julie: My book is sold on Amazon.com and Lulu.com.  It was published by Fire and Ice Young Adult Books/Melange, and can be found on their website as well.  It is available in Kindle form as well as paperback.
YAPC: What are your thoughts on ebooks?
Julie: I am 47 years old and I have yet to read a book in electronic form!  I guess I'm a bit of a dinosaur.  I just love books, the feel of them in my hand, turning the pages, and skipping ahead when I don't like the path the story is taking to make sure it will be okay.  i did; however, buy my book on Kindle when it was released, it just seemed like the right thing to do!  I still haven't looked at it, but I have it.
YAPC: What projects are you currently working on?  Would you mind sharing them?
Julie: I am working toward starting an anti-bullying campaign and taking my cat, Bear, to visit daycares and grade schools to spread the message.  If we educate children early in life, maybe we can stop some of the would-be bullies from progressing to the point of being a full-fledged bully.  I am a realist though, and I know bullying will NEVER go away.  It is as old as time itself. I just feel compelled to do my part.  I am in the midst of writing another YA novel, and that book is going in a completely different direction.  Like I said earlier, I want to write about characters I would have liked to have been in high school.  I can't wait until you meet my next character!
Blurb: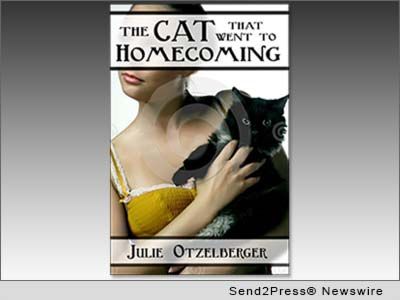 The Cat That Went To Homecoming is the coming of age story of Ellen Jones, an overweight teenage girl from a single family home.  She is under constant attack by her peers, bullied because of her weight and her family's poverty.   Through volunteer work with her cat, Hershey, Ellen finds her self esteem and the courage to stand up to her bullies.  Along the way, she discovers what true friendship and forgiveness are and tells us how Hershey became The Cat That Went To Homecoming.
"The Cat That Went To Homecoming addresses many serious social issues including family separation, bullying, homophobia, social isolation, and depression.  The compelling story is also about fun, friendship, and forgiveness."   Paula Scott-Ginn, Pet Partners Marketing Coordinator
Buy the Book:
Amazon Paperback * Kindle * Lulu
About the Author: Julie Otzelberger grew up in Hartland Wisconsin
and has been a Milwaukee area resident since her high school years. She is no stranger to bullying, having been bullied for most of her school years. The comments classmates made still haunted her after thirty years. In an effort to overcome her self esteem issues, Mrs. Otzelberger underwent gastric bypass surgery in 2010.
The unconditional love that pets offer can heal almost any pain. Gastric Bypass surgery changed Mrs. Otzelberger's appearance, but it could not heal the scars of bullying. The work she does with her therapy cat, Bear, gave her the self esteem she was lacking.
Julie Otzelberger has been married to her husband for 17 years, and their daughter still lives at home while attending college to become a vet tech. They have four cats and one dog-several of her coworkers refer to her home as "Noah's Ark".
"Hershey is a combination of each cat God has blessed me with over the years. My life was similar to Ellen's, but I did not find anything like Pet Partners until very recently. I hope I help a young girl finds her way to Pet Partners and follow her altruistic path with her best friend." Julie Otzelberger
Connect with Julie: