YAPC would like to welcome Dean Ammerman to the blog today. He is here to share some info about his book Waiting for the Voo. If this looks like something you would enjoy, please go pick up a copy or two!
Book Description: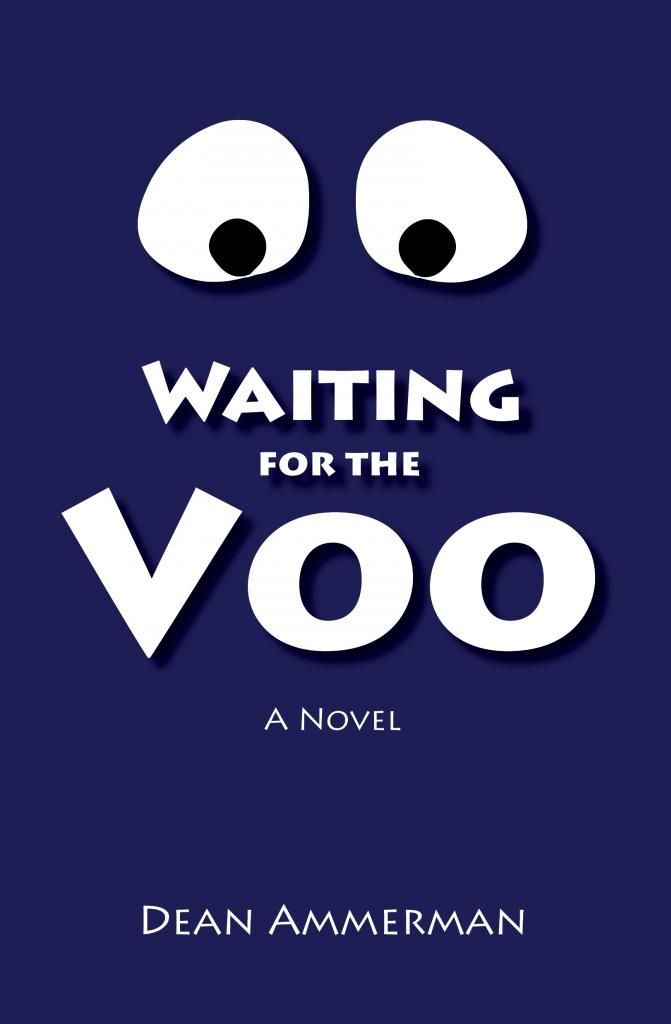 "Waiting for the Voo" is the story of a 13-year-old boy from Minnesota named Wilkin Delgado and a tug-o-war champion, gray-haired, exiled 14-year-old Missouri girl with serious anger issues by the name of Alice Jane Zelinski. Wilkin and Alice Jane join forces with an intergalactic, flip-flop wearing plumber named Cardamon Webb to fix a nasty sewage problem that threatens to destroy the universe. Along the way the three (and one or two others) must deal with a spiky monster, a ch-duck, an ancient book, a rat, a pair of ostriches and the mysterious Voo.
Buy Waiting for the Voo:
Excerpt:
Strange Things in Dorkville 
Strange things are happening in Dorkville. I mean freaky weird. As if living in this godforsaken dead-end infected wart of a town isn't enough, about a week ago the world went crazy on me. There were piles of dust bunnies in every corner of my room and under the bed. Handfuls of them that just appeared out of nowhere. But that's not all. I looked in the mirror and saw that my ears were pierced. They weren't before, but they are now. And the school is gone. Dodobrain and I showed up in the morning like normal and there was a Walgreens where Warrensberg High used to be, and kids were just wandering around instead of sitting in class. We looked at each other and we were like, "This is complete and total craziness."
Not only that, there are no stars. Zero. Go outside at night and it's just the moon, unless it's gone too, which wouldn't surprise me. I mentioned the stars to my mom and she said, "I didn't notice, Alice Jane," and went back to knitting a scarf or a pot holder or something. How can you not notice the stars are missing! And she doesn't knit! Plus, Genghis my cat is gone, everybody is wearing slippers and the trees smell like French toast. (Actually I kind of like the French toast part. I'm a big fan. Heavy on the maple syrup.)
So real early this morning I was in my room talking to my best friend Leo from back home. He's an amateur skin artist in his spare time and the one that inked the tattoo on the back of my neck as a going away present. He was always telling me, "Alice Jane, watch your back," and I think that eyeball was his way of reminding me of that. So I was talking to Leo about the craziness happening here and all of a sudden there was nothing. My phone went out. The lights went out. There weren't any birds or smells or anything. I was left sitting on my bed in the dark and it was like my ears and eyes and nose didn't work. I don't deal well with that kind of crap, if you'll pardon the expression, so I was out of my room and into the hallway screaming at anything and everything and God. I also got into my Kung Fu stance even though I don't know Kung Fu. Then I looked down at the end of the hall and that's when I saw a bright light coming out of the bottom of the one door.
Oh, I forgot to mention. Now we have this little man with a big hat sharing the house with us. Cardamon Webb. Gives me the creeps. It's his door. Of course.
So I was looking at that light and Dodobrain snuck up behind me and said, "What's the deal?" like I'm a philosopher or something, and I about jumped ten feet in the air, but not before I accidentally grabbed him by the neck and threw him against the wall and kicked him in the stomach. No big deal. Not to worry. He wasn't hurt too bad. In a couple of minutes he picked himself off the floor, mumbled something about bad karma and we went down the hall toward the light.
Dodobrain and I stood right there side-by-side looking at the old peeling wooden door to the stranger's room, listening, and I heard something that sounded like a dolphin, which I must have mentioned out loud. That's when the door opened and we were almost face-to-face with Cardamon Webb.
"We heard, um, dolphins?" Dodobrain said, like it was something you'd say.
Cardamon Webb was dressed in a pair of light blue Lone Ranger pajamas, orange flip-flops and that flat-topped hat. I said "almost face-to-face" because he was like a foot shorter than I am and about two feet shorter than Dodobrain, so he actually looked up at us. He scrunched his nose and tsk-tsk-tsked us, which I didn't appreciate. Then he looked at his pink watch, turned the little knob to move the hands ahead a few hours and said, "You're late."
Next, that freaky little man stepped back and led us into his room, which was the weirdest thing of all. There was light but I don't know where it was coming from, certainly not the burned-out bulb in the ceiling or the sliver of a moon from the outside. I looked around and saw a dinosaur bone, a big map on the wall, a pair of yellowed ivory dice, a white rat, a thick old book with a worn leather cover and a puffin eating a tuna sandwich. There were even blooming living plants and ivy covering all four walls.
Dodobrain looked around and you know the first thing he said?
"My mom doesn't like rats."
All this craziness going on and that's what he said. There's no stars, no power, a sandwich-eating bird, dust bunnies everywhere, and he's concerned because his mom doesn't like rats.
"I'm not fond of them myself," Cardamon Webb said.
"Then why do you have one?" Dodobrain asked.
"I keep it as a matter of principle," he said.
"What principle?"
Cardamon Webb turned to look at Dodobrain and then at me.
"The Principle of Rats, of course," he said matter-of-factly. "You have to have a rat. That's the principle."
See what I mean? It was just crazy. I mean, rats can't be a principle any more than a rock or a tennis racket. A principle is something basic that helps explain other things. It's not a rat.
"You mean like Archimedes' principle?" I asked, trying to sound smart and thinking about water displacement, which I think about every time I take a bubble bath, which is not as often as it should be.
"That depends," Cardamon Webb said, poking a finger at the rat through the cage.
There was a long pause. The rat was getting annoyed. So was I.
"On what?" I asked. Okay, I was a bit sarcastic, but can you blame me?
"On which principle and which Archimedes." He looked back and forth between the two of us. "As an example," he said, "I believe it was Archimedes of Syracuse who said, 'Give me a lemur big enough and I will move the earth.'"
"Lever. And fulcrum," I corrected.
"It doesn't matter how the lemur does it. He can use his tongue for all I care."
That was enough for me. But not enough for Cardamon Webb, apparently.
"I'm afraid that time is getting away from us," he said, looking at his watch. Then he put a hand in the small of each of our backs and guided us to the window to look at the night sky and all the emptiness. "We need to repair a significant something—plug a rather large hole, if you will—on this side, of course."
"This side?" Dodobrain asked. "Which side? Of what?"
"The outside. Of the universe," Cardamon Webb said, like he was serious, which he was.
"Look, we're kinda busy not going to school and all," I said slowly, so he wouldn't miss a word. "Why don't you fix it yourself and let us know what happens when you're done."
I find it's best to leave crazy people to themselves and let them live in their own world that doesn't include me.
"I can't move the earth on my own," he said. Then he put on this serious face and looked at us and said, "Alice Jane, Wilkin, I am in need of your expert assistance for the next couple of days."
"Why us?" I asked.
"The big lemurs are busy."
******
About the Author: I live in Minnesota, even though I hate cold weather. I have a wife, two daughters and a dog. And a
lawn, which I try to ignore. As for my interests: I read a good amount. Lately I've been re-reading books I read years ago to see if they're as good as I first thought. (Philip K. Dick's "The Man in the High Castle" is; Michael Moorcock's "The Dreaming City" is not.) I listen to different kinds of music, including bluegrass, rock, blues, country and Celtic. I rarely see movies and I don't watch much TV except for football and baseball and "Dr. Who." I like to hike and backpack. My daughter and I backpacked in Zion National Park for a week this past spring. As for my writing: "Waiting for the Voo" is my second novel. My original plan was for this to be a serious work of Fiction (with a capital "F"), but after the first couple of chapters I got so depressed by the story that I decided blow it up and start over. There's not a whole lot that depressing in "Waiting for the Voo" unless you count the possible destruction of all life in the universe. One last thing: I've never had an encounter with the supernatural, but I'm not opposed to the idea.
Connect with Dean: