YAPC would like to welcome Samantha Vervoordt to the blog today. She is here interview with us and to share some info about her book Mutant. If this looks like something you would enjoy reading please go get a few copies!
YAPC: Try to describe your book in one sentence.
Samantha: Mutant takes place in a dystopian society in which the saying "the good of the many outweighs the good of the few or the one" really took off, causing a young girl to suffer, escape, and rebel for the sake of thousands.
YAPC: State a random fact about yourself that would surprise your readers.
Samantha: I'm an associative synesthesiac, meaning that I automatically associate colors with things like letters, numbers, and people (although it can take other forms as well, just not for me). I discovered this while with some friends when I made an offhanded comment along the lines of, "No, three is red."
YAPC: Where would you live if you could live anywhere in the world?
Samantha: I'd definitely live somewhere warm because I despise cold weather. I visited Costa Rica recently and fell in love with it there, so that would have to be my answer right now. You can hike in the mountains through a rainforest, but you're still in a country with beautiful beaches. It's a win-win situation. I also found it very inspirational while there, and for days I was just admiring the view of the ocean and writing for hours. You can really forget yourself there; I loved it.
YAPC: How long have you been writing?
Samantha: I've been writing since before I can even remember. My grandmother actually found some crudely stapled together pieces of paper: some of my old "stories" about princes, princesses, and sea monsters. Aside from that, I've also been compiling every major story that I write on the computer on a flash drive since I was eleven or so, and it's fun to see how drastically my writing has improved from year to year.
YAPC: What's your favorite part of writing a book?
Samantha: My favorite thing about writing is creating characters. I get to create a life and lead it through a web of others that I've also created. I am getting better at making much more realistic characters that are far from stock, and while writing a particular story, I often form emotional bonds with them. While I graft little parts of myself into each character, I definitely feel like they are all very different from myself. Nami, the main character in Mutant, was the most fun I've ever had creating a character because she is so unlike myself.
YAPC: Did you do any research before start or during of the writing of the books?
Samantha: Because I created the world of Mutant from my own mind, little was needed from research. The main subject of my research was names; every single name in the world of Mutant is significant on some level. The entire story is an allegory, and there are many more underlying ideas with each character's name coupled with their actions. Some of my favorite names that I used in this book were Nami, Sumaya, Perdita, and Winter. It's up to my readers to figure out why I chose a name for a particular character; I refuse to spoil the fun for them.
YAPC: Do you have an all time favorite book?
Samantha: I've always found choosing an all time favorite book to be difficult, but for over a year now, my favorite book has been C.S. Lewis's Out of the Silent Planet. It's about a man (ironically named Ransom) who is kidnapped and taken to space. It's a refreshing utopian story that points out the flaws of human civilization. However, it is also one of the few books of its kind that points out that human kind is not broken, just a little bent.
YAPC: Do you prefer Twitter or Facebook?
Samantha: Facebook is a much better way to keep track of anything going on with my books. I've only recently gotten my own Twitter account, and I'm struggling to use it despite the help of my friends. As for Mutant, I have a page on Facebook where you can get updates. As I write more, I will also begin to update it with new publications, so anyone can "like" the page in order to stay up-to-date. It's a small fan page at the moment, but it is slowly growing.
YAPC: Have you ever Googled yourself?
Samantha: Sadly, I have. I can get pretty self-conscious, and Googling myself is probably the worst thing that I've done. I did a LipDub one year, and I've seen that come up…There's even a picture of the moment I walked into the wall during said LipDub. For the love of God, never Google yourself.
YAPC: What projects are you currently working on right now? Would you mind sharing them with us?
Samantha: Currently, I've become absorbed with another science fiction piece that I hope to have done by the end of this year. As of now, I'm referring to it as Anna's Ashes, but it is extremely likely that that name will change. It's about Anna, a girl that wakes up on the street with amnesia. She and her friend desperately try and find out what's happened to her, and some sinister plots are revealed. This piece is interesting to write because it bounces between three points of view: Anna's, Cameron's, and Anna's memories. I'm working on another piece about immortality as well, also science fiction, but that story isn't quite as far along, and I'm still working on several key plot points.
Book Description:
At 16 they are taken for Testing. At 16 they are fated to die.
The future is not right for humans—so what else to do but Test? Perfect the genome, perfect the species. But it has become too much of a power grab by scientists and has strayed from its initial goal. Nami is one such subject. Surviving the Tests is no easy task, but when she is catapulted into an unexpected escape, she is given a second chance to live. But as meaningless as they might be, Nami discovers that the Tests were not entirely worthless after all. The only question that remains is: What will Nami do with the information she has been given?
Buy Mutant:
Excerpt:
The rain beat down on the bolted window, and I saw the trees sway in the distance through the bars of my quartered prison. Thunder shook the main building; I prayed that it could somehow kill me. I somehow thought that the lightning would snake its way through to me and grant me a merciful death if I just wished hard enough. There was no such luck in the world. My heart sank into my stomach, and I contemplated the rain, each droplet so perfect. But they all fell to the ground and were destroyed all the same. I had always thought of rain as the universe's joke on us. Its own way of telling us that we are all doomed to failure despite how hard we might try. You can never stop death, just as you can never stop the rain. And you can never stop the Tests.
My black hair shone in the dusk, matted to my neck and twirled around my index finger. Eyebrows creased in an effort to control my panic, I struggled to keep the tears from leaving my eyes. A painful lob engulfed my throat, though I persisted in my endeavor to stay strong. I had failed the analysis. Deep down, I had known that I would be condemned to the bottom 99% of society. It was strange to think that I had held even a small shard of hope that was now turning on me, stabbing at my heart. My life was suddenly signed away in a pen of blood across my heart, my destiny doomed. Tomorrow marked the sixteenth year of Group 197, and as a right of passage I would die for the betterment of society. There was no society, I knew. Just a handful of insatiable, power-hungry Test-Givers that tweaked and tweaked until they were sure that they could perfect themselves. "For the good of evolution" they would say. But it's been over two hundred years and all they've done is given themselves more time, each generation more dedicated to self-serving than the last. I was sixteen years old and already wiser to their game than some of the others. They were so goddamn excited to die, convinced that it really was for the better.
"In the name of Darwin", they would say, helping evolution along by bypassing the natural selection that he had named. Almost none of the tweaks have worked and so they try and try again, each batch of corpses a fresh memory forever scarred into my mind. Even if you were one of the lucky ones—the surviving five—they'd just tweak you some more until you died of some sort of tumor or your heart just plain and simple gave out. They don't care. The Test Givers have legitimately convinced themselves that they have strived toward the greater good, and any inhumane act that contradicted that was a necessary evil. Besides their slightly longer lifespan, they had nothing to show for their "efforts" except the piles of bodies, which they occasionally fed to the Degenerates. Why would the Test Givers want to give up their lavish lifestyles in order to spare a few lives? I used to be optimistic, but optimists never lasted very long. My own hope turned on me, and pessimism took root in my mind and soul years earlier. Hope was too painful to hold onto as my sixteenth birthday approached.
Tomorrow was the first day of the end, and I would be forced down without a fight. I would accept the pain. I would adopt it, and I would make it a part of myself. Everything would be easier if they would just kill me now anyway. My death wouldn't advance their little science projects and they were aware of that. They just wanted to make advancements for themselves by testing them out on their young little mice, cajoling us with empty promises and false words. I wanted to give in just as some of the others had, but I knew that those promises were as tough to grasp as the rain that came down in torrents around me.
About the Author: Samantha Vervoordt is a seventeen year old high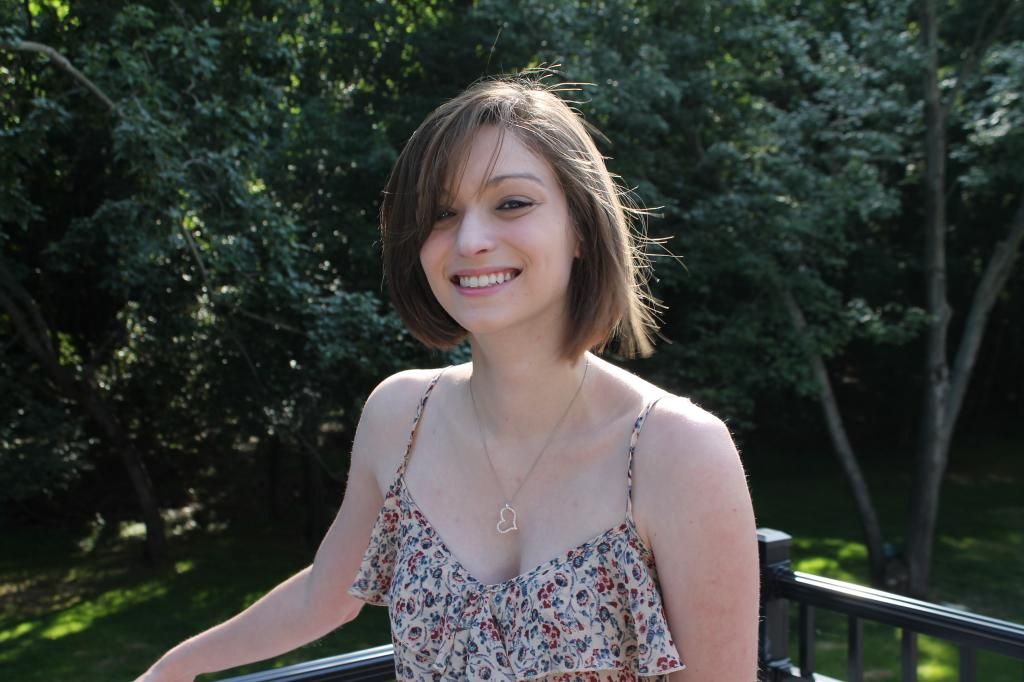 school senior. She has published her first novel, Mutant, and plans to write and publish more works in the near future. Samantha currently resides in New Jersey, and has big hopes for her writing career.
Connect with Samantha: