Welcome to YAPC
Built to expose!

Your book. Your blog. Your platform.
We'll help boost your pub buzz through cross-promotion and KDP Free Days at affordable rates.
We'd love to expose you.



We are currently offering a Sale!
50% off all book promotion packages starting at $12.50!
Learn More
Email Us!

Interview with Patricia Lynne, author of Being Human and Snapshots
YA Promo Central would like to welcome author Patricia Lynne to the blog! She is here to answer a few questions and to talk about her books, Being Human and Snapshots. If Being Human and Snapshots sound like something that you would be interested in reading, please use the buy links at the bottom of this post and pick up a copy or two!
YAPC: Try to describe your book in one sentence.
Patricia: Cyclop can see the future in other's eyes, but his own lies in the past he can't escape.
YAPC: Did you always had in mind to be a writer or it just happened?
Patricia: It just happened. I've always been a daydreamer, thinking up stories. One day, I got an idea and kept thinking about it so I decided to write it down for fun. I had no plans on sharing the story. After that story, I got another idea. They kept coming. Then I got the idea for Being Human and it felt like a story I wanted to share with others. Now I can't stop.
YAPC: Aside from writing, what do you enjoy doing on your spare time?
Patricia: I love making jewelry and knitting. I have a small online store that I sell my crafts on and go to fairs and events as a vendor. Never been much of a jewelry wearer though.
YAPC: Have you always wanted to be a writer?
Patricia: No. When I was in high school I wanted to be an artist. My grandpa painted so his paintings are hung all over the house and that's what I wanted to do. I even went to college at Grand Valley State for a year for art, but ended up dropping out.
YAPC: What is it you love most about writing? What's the hardest part of writing for you?
Patricia: I love it when I get a new idea. It gets me so excited and I can't wait to write. Lots of stuff gets neglected when I get a new idea. Sometimes editing is the hardest part. I procrastinate and sometimes I think I need a boss to tell me to get to work. It can be hard to motivate myself today when I know I can do it tomorrow.
YAPC: Who is your favorite character in your new release?
Patricia: Jacob is my favorite character in Snapshots. He's only three and was I modeled him after my nephew, Emmet. Emmet is a whirlwind and says some of the funniest things and the things Jacob says I can see Emmet saying as well. Plus, I like the innocence of Jacob. He's stuck in a bad place, but has no problem using his imagination to take him someplace fun. Cyc is often envious of Jacob's ability to pretend.
YAPC: Where do you get your inspiration?
Patricia: All over the place. Sometimes it's another book that makes me ask "What if…" A scene in a movie or TV show. Dreams. I get a lot of dreams. And of course, the shower. I don't know what it is but I get in the shower (away from pen and paper) and ideas come. It's a bit annoying. LOL
YAPC: Which genres do you prefer to read?
Patricia: I love reading YA, but I also devour anything to do with Serial Killer true crime. (I probably have too much serial killer trivia memorized to be considered healthy!) I also like books that deal with hard issues for teens like cutting or bulimia. Those books don't often have a Happily Ever After but a hopeful ending and I enjoy those endings much better.
YAPC: Do you prefer Twitter or Facebook?
Patricia: I'm a big Twitter fan. I try to be active on FB, but Twitter just comes easier and seems more fun. It's closer to real time chat than FB can get. (BTW I would love readers to find me on Twitter and talk. I may get anti-social moments and declare myself anti-social, but say something to me on Twitter and I find time to respond.)
YAPC: Morning person or night owl?
Patricia: Night Owl. Mornings are evil, vile things and if I ever rule the world I am making mornings illegal.
YAPC: What projects are you currently working on right now? Would you mind sharing them with us?
Patricia: I am currently rewriting the sequel to my first novel, Being Human. It's called Being Vampire and it's a direct sequel. Either one can be read alone, but there are cross over characters and it's in the same universe. It is set ahead of Being Human by a good amount of time (Not sure how much yet.) While in Being Human, humans knew vampires existed, they no longer believe in vampires in Being Vampire. In fact, vampires were erased from history so any human that remembers pretty much pretends they don't. The story follows Drew four years after he lost his memories and caused the death of his little brother. This isn't a spoiler so I don't feel bad telling you. Drew doesn't know he's a vampire, but the reader does.
About the Author: Patricia Lynne never set out to become a writer, and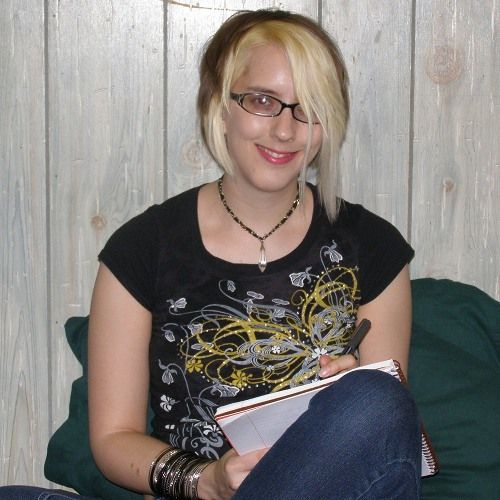 in fact, never gave it any thought during high school and college. But now she can't stop writing. Patricia lives with her husband in Michigan, hopes one day to have what will resemble a small petting zoo and has a fondness for dying her hair the colors of the rainbow.
Being Human

For Tommy, there is only one thing he needs to do: survive.

Only surviving isn't that easy. The hunt for blood can be tricky when humans know to fear the night. Desire sits on the edge of his mind, urging him to become the monster humans think he is. Vampire Forces, a special branch of police, is determined to turn every vampire to ash. Tommy included.

The only human Tommy can trust is his twin brother. A bond connects them, and with Danny's help, Tommy starts to understand the human world he struggles to survive in. He'll learn what friendships means and feel the sting of betrayal, find that sometimes the worst monsters are very human, and come to understand that family means more than blood.

Tommy just wants to survive and he knows what he needs to do. But with the number of humans that mean more to him than a meal growing, he'll learn there's more to life than simple survival. He'll discover being human doesn't mean being a human.

* * * * *

Snapshots

My name is Cyclop Blaine and I am a real person.

"You are mine."

I am a real person: heedless of a childhood spent under the supervision of an old man I only know as Master.

"You belong to me."

I am a real person: regardless of my teenage years bound by violence as the adoptive son of the Victory Street Gang's leader.

"You will obey me."

I am a real person: despite the visions I see in others' eyes. Snapshots of their futures.

"You will cower before me."

I am a real person: my life will be my own. I belong to no one.

"You. Are. MINE."
You can find her and her books:
YA Promo Central (YAPC) is an affordable platform for authors to advertise their books. We help authors get the exposure they need through weekly blog rolls, cross promotion, author resources and Free Days. Let us expose you. Reach out. We promise to bite.
10 Responses to Interview with Patricia Lynne, author of Being Human and Snapshots